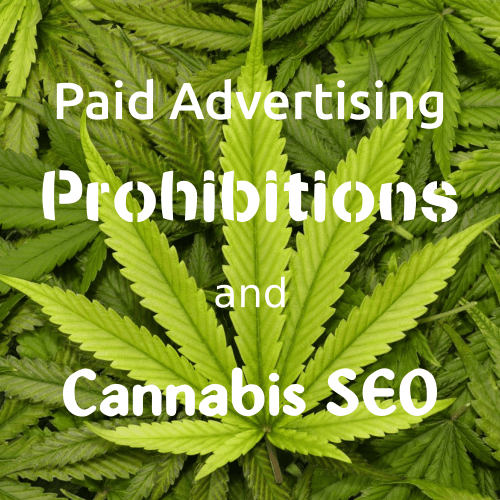 The word "prohibition" often conjures up negative connotations, however when it comes to Cannabis SEO and marijuana website marketing it actually provides a unique opportunity to excel at brand exposure.  In fact, the more constrained your advertising and marketing options are the more valuable Search Engine Optimization (SEO) strategies become due to the lack of regulation in the space. In its present state the search engine business model doesn't allow for manual curation since it is robustly reliant on automated content aggregation.  Topics like Wine & Spirits, Healthcare, Pharmaceuticals, Financial Services, Weaponry, Gambling/Casinos and Cryptocurrency along with Cannabis are all examples of areas that have found themselves at times restricted from ad channels that let you purchase placement. So What Do Paid Advertising Prohibitions Mean For Your Cannabis SEO?
As a market that is growing exponentially with no removal of paid advertising prohibitions in sight, cannabis, marijuana website design and dispensary website marketing are all prime prime examples of online areas that can experience the fruits of Search Engine Optimization (SEO).  Marijuana represents one of the fastest growing industries that is constrained by paid advertising making it the ideal candidate for expert level Cannabis SEO. Not just limited to search engines either even many of the top social media platforms are also placing restrictions on paid Cannabis advertising giving even more importance to finding creative marketing strategies.  So where do you start when dealing with so many obstacles and hurdles? The best place to begin your Cannabis SEO journey is by building your own SEO-powered website and marijuana website marketing plans. Next you will want to look at web design and development, copywriting, brand messaging, business outreach and social media management as perfect ways to compliment your Cannabis SEO efforts.  Where does this leave us when it comes to what paid advertisement prohibitions mean for our Cannabis SEO?
When the advertising industry, especially the Google-Facebook conglomerate, prohibits you from buying digital advertisements and promotions you must search for alternative channels to get your product, services and messaging out.  The best way to accomplish this is through expert level Cannabis SEO, marijuana website marketing and dispensary website design.  When it comes to Search Engine Optimization (SEO) versus other means of marketing and brand exposure always remember that SEO gives you the broadest reach, precision advertising, complete control and ownership, on-page and off-page opportunities, potential lead generation, inbound marketing and so much more.  If you are ready to take your Cannabis, Marijuana or dispensary SEO to new heights be sure to consult with a trusted and reliable source of information, knowledge and resources. In prohibitive advertising markets there is little more effective then high powered organic, white hat Search Engine Optimization (SEO) and there is nothing that indicates this will be changing anytime soon.