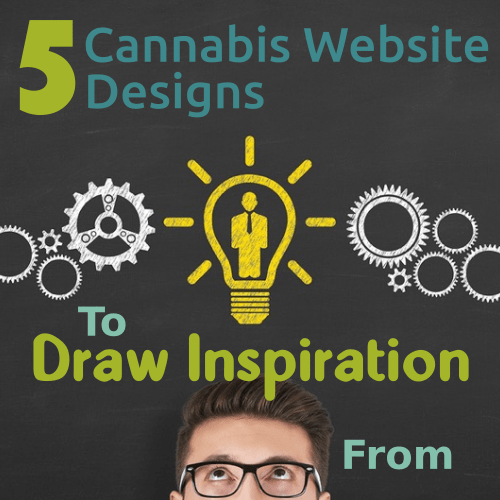 Many say imitation is the greatest form of flattery.  While when it comes to Cannabis website design you want to stand out, you also want to appeal to a mass audience which is why we can learn so much from already popular websites.  In the early stages of its evolution, the marijuana industry is seeing incredible growth making it extremely important to get the right website platform and design created as soon as possible.  A unique market that can require special considerations, a lot can be leveraged from the online companies who have already been successful in their internet based branding and presentation. Making marijuana website design decisions can be difficult but by looking at other attractive web properties we can draw inspiration for our own plans and ideas.
There is a lot of thought and effort that must go into top tier dispensary website design so any time you can make the process easier through third party insight the opportunity should be considered.  Whenever you are contemplating building a new cannabis website it is best to start to formulate some concepts and proposals before diving in and a perfect way to do that is by observing how other websites have created there functionality and charm.  Let's take some time to review five marijuana website designs that have caught the eyes of the internet so that we can begin to formulate our own vision of what we want our business web presence to be.
5 Marijuana Website Designs That Inspire
1:  CAN-A-WIPES – https://www.canawipes.com/
The simplicity and straightforwardness of the Can-A-Wipes marijuana website design sets itself up for enhanced search engine optimization and easy sales conversions.  With all information presented clearly on a single page and checkout as easy as 1, 2, 3 there certainly is a lot to take away from this modern design that packs such a sales punch.
2: LB GREEN ROOM – https://lbgreenroom.com/
The visual appeal, clear contact information and homepage shopping cart are just a few of the features that really help this dispensary website design resonate with the consumer.  Also completely California prop and law compliant with recreational and medicinal online application and delivery support this is the type of website design that sets the bar for others.
3: CITY CANNABIS CO https://citycannabis.co/
Showcasing age restricted parameters and unique .co branding this Vancouver based company is showing just how to mix dispensary website design with local flavors and cultures.  Also with easy messaging, quick access to social media and an informative Q/A section this website has the basics and valuable bells and whistles you would expect from an engaging online business.
4: ALTAI BRANDS http://altaibrands.com/
Highlighting royal themes, deep colors and fascinating shapes and patterns combined with picture perfect product photography this high-end chocolates and caramels infused with marijuana candy maker has all the right approaches when it comes to drawing customers and clients in.  Eye catching yet easy to use this is one marijuana based business that has really captured of what great website design can be.
5: WILLIE'S RESERVE https://williesreserve.com/
Leveraging the power of celebrity combined with black / white contrasts really gives this cannabis website design the edge it needs to make for an interesting and pleasing browse.  With its own social community and personalized blog this brand really knows how to curate content in an interesting and interactive manner which is the type of design and framework needed to elevate any product or service to the next level.
If you are thinking about cannabis website design and how it best integrates with your business be sure to take the time to look at a wide range of websites in your market niche.  Take notes on what you like and do not like. Start to form a structure in your head on what you would want your marijuana website design to be. See what is out there and what works and what does not.  Have examples and references for potential web designers to review. Once you have a strong hold on all that is available in terms of great product, service and dispensary website design it will be much easier to present your wishes to website design firms.  Imitating the best of the best while making it your own and adding unique touches is a sure way to cannabis website design success. While there is no need to reinvent the wheel, by working with an expert website design team and harnessing the great work that is already out there for review there is no telling what heights can be reached.  Website design is everything and your cannabis business deserves the very best.