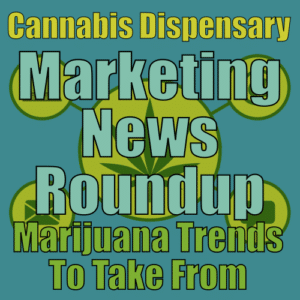 Dissecting the best practices in marijuana dispensary marketing is never easy but looking at the latest trends in the cannabis marketplace provides great insight into what the industry is responding to.  By staying in-tune with current dispensary marketing company moves and other cannabis news stories one can uncover plenty of knowledge and strategy to apply to their own marijuana ventures. Fast paced and constantly changing, the landscape, legalities and love of cannabis is dynamic and intriguing making it crucial to keep track of the direction sentiments are shifting towards.  The multibillion-dollar global cannabis boom is showing no signs of slowing down and those that can take advantage of the innovations and explorations on the horizon will also position themselves to excel at critical company functions like dispensary marketing and marijuana website design.
By taking an inside look at the deals, trends, and key players driving the cannabis space we can in-turn start to formulate our own plans and ideas regarding marijuana dispensary marketing.  The legalization of cannabis is endlessly complex and fascinating which is why taking cues from the leaders can go along way towards elevating our own THC and CBD brands and businesses. Intersecting with such subjects as social change, political climate, justice, policy, history, marketing, and finance there are few topics in the world that cannabis does not coexist with.  So how do some of the areas of discussion impact our approaches and perspectives on marijuana dispensary marketing? Reviewing the following five recent fads in regards to the world's most compelling asset class is a great way to cultivate and gain favor for our own dispensary marketing goals, ideas and endeavours.
5 Influential Cannabis News Trends That Can Impact Your Marijuana Dispensary Marketing Agenda
Trending Marijuana News Story and Dispensary Marketing Lesson #1: Curaleaf buys Chicago-based "Grassroots Cannabis" in an $875 million cash-and-stock deal.
The takeaway here is that budgets are big and spending is wild.  If you want to stay competitive in the cannabis arena be prepared to push your dispensary marketing company resource allocations to the max.
Trending Marijuana News Story and Dispensary Marketing Lesson #2: Canadian marijuana producer CannTrust in hot water with Health Canada as unlicensed growing is reported.
This marijuana news story really highlights the need to stay in compliance with all rules, regulations and laws.  When working with a dispensary marketing company or even a cannabis website design partner you want to make sure they understand exactly what can and can not be done according to jurisdiction and government policies.
Trending Marijuana News Story and Dispensary Marketing Lesson #3: The results of a Canadian Ipsos survey found that cannabis companies are experiencing extremely low favorability index ratings.
As popular as THC and CBD is right now there are still stigmas that follow which is why it is now more important then ever to properly present your brand, products or services in the right light.  Hiring the proper dispensary marketing company will assure you are not only represented well in reviews, ratings and public relations but also in the community eyes as a whole. 
Trending Marijuana News Story and Dispensary Marketing Lesson #4:  Green Growth Brands partners with retailer American Eagle to sell CBD-infused "personal care" products in 450+ stores and on the AE website.
The power of the partnership is stronger then ever within the cannabis space.  By joining up with well established or highly visible companies one can elevate their own business to new heights.  Leveraging strategically aligned relationships is an ideal way to take sales, exposure and dispensary marketing channels to the next level.
Trending Marijuana News Story and Dispensary Marketing Lesson #5:  Jay-Z was named Chief Strategist at Caliva, a chain of California cannabis brands.  Post Malone creates Shaboink Hemp Pre-Rolls start-up and partners with Icon Farms And Sherbinskis.
Celebrity endorsements and star joint ventures provide extreme value in the cannabis climate given today's culture and interest base.  In the age of social media and technology influencers often control the masses giving them precedence when it comes to marketing, advertising and branding preferences.
In conclusion there are a lot of very interesting current events taking place in the cannabis industry which are also directly related to expert marijuana dispensary marketing.  If you are hiring a dispensary marketing company that is not aware of all market movements going on in THC and CBD then you will be at a disadvantage. Paying attention to current trends is a must if you expect for your own marijuana undertakings to succeed. What is the hottest cannabis news story near you and how would you learn from it to become better at dispensary marketing?