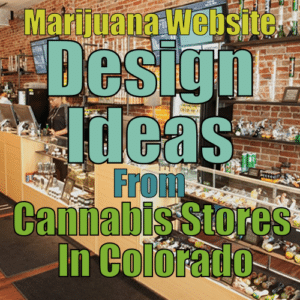 In regards to marijuana website design there is a lot of inspiration to draw from companies in Colorado.  By reviewing the best in Colorado businesses dispensary website design and innovation we can pull helpful insights to integrate into our own online cannabis related projects.  On November 7th, 2000, Colorado voters approved Amendment 20, which adjusted the State Constitution to include the use of marijuana for approved patients with written medical consent..  After a successful launch into the medical pot landscape Colorado soon became one of the earliest states to fully legalize recreational cannabis with the passage of The Colorado Amendment 64, on November 6th, 2012, leading to complete legalization in January 2014.  In the middle of 2019, Colorado Governor Jared Polis enacted a law that would allow licensed businesses to have social marijuana use areas really highlighting just how progressive the state is when it comes to the cannabis industry as a whole..
With so much dedication to the subject matter of marijuana happening in a single state we are constantly witnessing new permutations and ideas when it comes to key technologies and consumer interfaces like cannabis website design.  While we can point to many great marijuana stores in Colorado leading the future of THC and CBD commerce there is a select group that really excel in the online presentations of their business. As an emerging sector of the economy, the best approaches to dispensary website design are constantly unfolding and advancing making it crucial to keep tabs on how the very best are performing, growing and maturing on the world wide web.  
By examining the top three Colorado cannabis website design ideas and concepts we can learn the best ways to improve our own web presence from the premiere weed stores in the state.
Marijuana Website Design Idea #1 – Individualized Local Pages
LivWell – Denver, Colorado Springs, Pueblo, Mancos, Cortez, Trinidad, Garden City, Fort Collins Colorado
When it comes to dispensary website design you will want to make sure that all of your locations are well represented through individual web pages.  By having unique pages for each location you not only make it easier for customers to find what they are looking for but you also gain search engine optimization (SEO) boosts through GEO tagging, keyword expansion and localized mapping.  Having dedicated location pages also allows for enhanced dispensary marketing opportunities as you know have more places to connect with a wide variety of communities and clients. One of the biggest mistakes being made in dispensary website design is not coordinating and featuring location data properly and this innovative approach to location management provides a great platform further exposure and expansion.
Marijuana Website Design Idea #2 – Content & Contest Combinations
Medicine Man – Denver, Aurora, Thornton and Longmont Colorado
When you first enter the Medicine Man dispensary website you are greeted with a newsletter sign up giveaway offer which is a great way to not only engage visitors but also to gather vital consumer data. By creating content like a newsletter, blog, article or press release and then combining that with a contest you are creating cannabis website design features that have a high potential customer cultivation and conversion.  This type of dynamic approach to dispensary website design gives you a multitude of options to expand your reach, build your brand and communicate your messages. This is a great example of how integrating content and contests into your cannabis website design can go along way towards future success.
Marijuana Website Design Idea #3 – Award, Certification and License Displays
Organic Alternatives – Fort Collins, Colorado
When clicking on the Organic Alternatives website you are immediately met with the fact that they are 2018 NOCO Style "Best Marijuana Dispensary" award winner as well as a Leafly 2018 "Best Boutique Dispensary" award winner giving immediate credibility and praise to the business.  In an industry full of licences, certification and honors there is a great opportunity to help your dispensary website design standout by prominently displaying those accolades that set you apart from the competition. Just like seeing all the diplomas at a doctors office clients will feel more confident and comfortable when they know you have been recognized for your accomplishments and that you follow all guidelines, rules, regulations and laws.
If you are thinking about partnering with a dispensary marketing company or a marijuana website design expert be sure they are well versed in what the top companies are doing in the most advanced THC and CBD markets like Colorado.  Still in its early adoption phases, legalized recreational marijuana will eventually flourish in everyday life, translating into one of the most exciting economies in the entire world. Those companies that seek to utilize the services of high level marijuana website designers will find themselves in a desirable position to dominate competitors.  When it comes to featuring your THC and CBD products and services online you will want your marijuana website design and dispensary marketing to thrive. By coinciding with those implementations and ideas that have been proven to produce results and following in the footsteps of established and successful websites you can in turn elevate to heights in the industry you once never imagined..