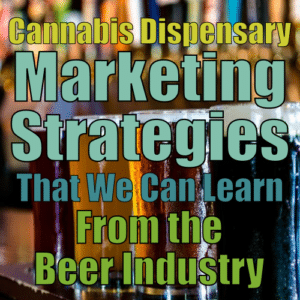 When it comes to lessons from the history of the alcohol industry, there is a lot to take away from regarding cannabis dispensary marketing.  Two very similar markets, marijuana and beer, it's the historical contexts of alcohol that can reveal important insights into how to create a successful future for cannabis companies  Brands looking to improve upon their dispensary marketing strategies are wise to pay close attention to the trials, tribulations and triumphs of the beer business as there are extensive examples to draw from. Revelations like the price actions of alcohol companies revolving around the era of prohibition providing warning signs on overvaluation are vast and very applicable to today's THC and CBD dispensary marketing climates.
Two of the most controversial consumer products in recent history, weed and liquor, often make for interesting comparisons in relation to growth tactics and cannabis dispensary marketing strategy.  Total sales estimates for Canadian cannabis companies in 2020 are expected to be $2.7 billion, while those of United States marijuana companies are expected to be $4.8 billion meaning the stakes are high when it comes to getting dispensary marketing right the first time.  While the past never perfectly predicts the present or the future, looking at major successful beer companies like Anheuser-Busch (now a part of AB InBev) and Coors is a sure way to gain valuable methods of dispensary growth in terms of marketing and beyond. So what were those 3 areas of focus and expertise that propelled these alcohol companies to the next level?  By applying the following strategies to your future marijuana dispensary marketing campaigns you can take what was powerful in the past and push your own products and services to new heights.
Beer Industry Marijuana Dispensary Marketing History Model #1: Vertical Integration
Anheuser-Busch Invests In Global Distribution Network
As witnessed by Curaleaf Holdings (OTCPK:CURLF) new acquisition of Eureka Investment Partners allowing the company access to Eureka's cultivation facility in Salinas Valley, which is conveniently located near Curaleaf's manufacturing facility in Davis, California you see the power of vertical integration. Canadian Company Cronos Group recently purchased Redwood Holding Group, a hemp producer which distributes CBD products in the US, for $300 million further highlighting just how critical this type of expansion mentality can be. When it comes to dispensary marketing you can draw parallel inspirations by thinking about your next advertising and branding moves from a ground floor perspective. From bottom to top you will want to assure your cannabis dispensary marketing resources and plans are dedicated to systems that always have your THC or CBD business scaling in the right directions. 
Beer Industry Marijuana Dispensary Marketing History Model #2: Innovative Products
Coors is the first American brewer to use all-aluminum cans and sterile filtration techniques.
As evidenced by former execs from JP Morgan and Snoop Dogg's starting a new Cannabis Investment Bank called ELLO Capital it is clear new and innovative ideas are on the horizon for the THC and CBD industries.  Even ideas like the Weedmaps Museum of Weed in Los Angeles open for a limited time shows just how important creative ventures are and how history can drive futuristic expansion and experience. What this means for cannabis dispensary marketing is that you constantly need to be utilizing the latest techniques and inventing fresh angles when it comes to presenting your brand or business to the public.  By using the most cutting edge tools and tactics within the dispensary marketing universe you position yourself to be an influencer in your respective space.
Beer Industry Marijuana Dispensary Marketing History Model #3: Brand Awareness
Anheuser-Busch introduces advertisements and giveaways in the late 19th century
In Canada companies like Canopy Growth Corporation (CGC) and Cronos Group (CRON) have separated themselves by focusing on unique educational initiative branding campaigns.  Big music stars like Cypress Hill, 311, Blues Traveler are all cashing In on cannabis really putting an emphasis how critical brand awareness can be when it comes to connecting with the public and using popular platforms as stepping stones to success.  In relation to dispensary marketing brand awareness is essential when it comes to making your mark with your client base. By always keeping your brand on target and tailored to fan and customer feedback you can make significant strides in company health and longevity.
It's clear from the above glimpses in time that we learn a lot from previous alcohol business triumphs.  In addition we can also take the movements of the current marijuana market and leverage this knowledge as a way to progress forward in our own cannabis dispensary marketing efforts.  Marijuana dispensary marketing is the perfect area of business to apply vertical integration, innovation and brand awareness as excelling in these niches can go along way towards prosperity.  If you are interested in learning more about how to grow your business it's always smart to consult with and expert dispensary marketing company. Extracting historical teachings into modern methods is a must when it comes to dispensary marketing and given the access to past information there is no excuse not to excel when it comes to advertising, brand building and beyond.