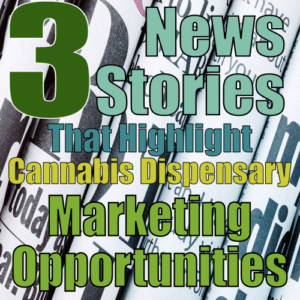 Reading the news is not only a pastime enjoyed for generations, it's also a source of ideas and innovation.  Staying connected with the top marijuana industry news stories can go along way towards sparking new cannabis dispensary marketing opportunities. The THC and CBD industries are moving at such a rapid rate that staying well versed with current events plays a huge role in how well you are able to capture and capitalize on fresh and unique dispensary marketing insights.  One of the most exciting times to be participating in the cannabis business space there are a plethora of news stories to pull from when it comes to developing our own marijuana dispensary marketing strategies.
Once you have your cannabis website design completed to perfection you will then want to think about how to aggressively use dispensary marketing to grow your brand, products and services.  One of the best ways to do just that is by working with a dispensary marketing company to track the latest news and apply favorable happenings and events to your own goals and vision. While many eclectic and entertaining cannabis stories make the headlines it's about finding those gems that reveal the benefits of taking certain approaches to cannabis dispensary marketing.  So what are the news stories that have been gracing the top THC and CBD searches and outlets? Here are three making the media that provide great examples of the types of dispensary marketing openings that others may be missing by not thinking outside the box.
Cannabis News Story Discovery #1: Event Marijuana Dispensary Marketing
State of California approves first ever music event permit for the sale and on-site consumption of pot at the Outside Lands Music Festival in San Francisco.
What this highlights is that there are more and more event opportunities taking place in the cannabis marketplace.  Make sure to stay in touch with all relevant events to your THC or CBD company and attend and advertise at those that make the most sense.  Having your dispensary or weed brand featured at a popular music festival would be marketing gold and would certainly make for great social media content, community outreach and customer engagement.  Keeping an event minded approach to marijuana dispensary marketing will always unveil exciting get togethers worth marking on the calendar.
Cannabis News Story Discovery #2: Partnership Marijuana Dispensary Marketing
Former Major League Baseball All-Star Shane Victorino announces partnership between his Hawaii cannabis business "Legacy Ventures Hawaii" and a California-based hemp business "Arcadia Biosciences".
And
AriZona Beverages is creating cannabis-infused products containing THC by teaming up with Dixie Brands, a Denver-based cannabis company.
Seeking out new cannabis joint ventures and discussing how to best market and advertise those partnerships is a proven way to expand growth and reach.  By combining resources and reach with other like minded companies you can elevate your potential exponentially. There is an old saying that "two heads are better than one" and in this case the same logic applies, where joining forces with other successful businesses can lead to unplanned successes.  It's even more valuable when you can partner with a celebrity or established brand to reap the rewards of social influence.
Cannabis News Story Discovery #3: Experimentation and Expansion Marijuana Dispensary Marketing
"byMinistry" is bringing an 8,000 square foot cannabis consumption lounge, a cannabis culinary school and modular and adaptable event space for experiential art, music, fashion, and cultural programming to Toronto.
With so many new laws changing in favor of marijuana there are a lot of cannabis entrepreneurs taking risks and coming up with new concepts to try as regulations allow.  In this instance we see innovator and serial entrepreneur Lorne Gertner bring a huge community into existence for elevated consumption, learning, and innovative experiences which inspiring to others to take chances.  Growing to new heights by exploring all avenues of the THC and CBD industry is a sure way to find whatever works best for your cannabis dispensary marketing needs. Through experimentation and testing you can fine tune your marijuana website design and other business features to exactly the stepping stones you require to build upon.
Sure the traditional cannabis dispensary marketing methods are very important but by expanding into never before seen territories you can develop in positive ways never expected.  Breaking THC and CBD news is a great source of enlightenment when it comes to who, where and what is pushing the limits of the industry. If you are working with a dispensary marketing company be sure they are very aware of the latest weed news as this assures you stay ahead of the curve in terms of information, innovation and reaction time. With so many intriguing cannabis news stories coming out lately there is sure to be more great knowledge and insight right around the corner.  What has been your favorite cannabis news story of the year so far?