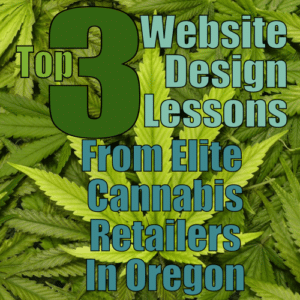 When it comes to cannabis website design inspiration there is a lot to gain from businesses in the state of Oregon. By analyzing Oregon stores marijuana website design, cannabis dispensary marketing and search engine optimization (SEO) we can extract crucial lessons to implement within our own online portals. In 1973, Oregon became the inaugural state to decriminalize cannabis. After years of slow progress and ambiguity Oregon finally passed "The Oregon Medical Marijuana Act" which was set forth by Ballot Measure 67, a citizens' initiative, in November 1998. In 2014 Measure 91 was enacted legalizing non-medical cultivation and consumption of cannabis in Oregon starting July 1, 2015 adding the final piece to the puzzle for a thriving dispensary market.
With so much concentration on cannabis occuring in a single state we are really discovering fresh concepts and characteristics in regards to key business components like cannabis dispensary marketing and marijuana website design. While we can single out many amazing marijuana outlets in Oregon leading the future of cannabis commerce there are a small minority that really excel at what they do. Still a relatively new marketplace, the elite strategies in cannabis dispensary marketing and dispensary website design must stay flexible to changing market which is why it is so critical to keep updated and informed on what the very best are doing.
Let's take a moment to breakdown the top 3 cannabis website design lessons we can learn from the highest reviewed and leading cannabis store in Oregon to gain new insight on how to improve our own online THC and CBD endeavors.
Marijuana Dispensary Website Design Insight #1 – Transparency
The Joint – Salem, Oregon
When reviewing the dispensary website design and marketing efforts of The Joint,  access to product test results really provides validity and peace of mind to the customer.  The Joint web page on the subject matter is extremely detailed and informative and makes a strong connection with its audience as it promotes honesty, integrity and transparency while highlighting a commitment to client education and care.  The Joint opens up the test results on characteristics such as Potency, Pesticides, Total THC, Total CBD, Water Activity, Moisture Levels and more lending credibility to its dispensary and cannabis brand as a whole. Providing valuable, unique and detailed marijuana product information is a sure way to not only impress visitors but allow for the transparency needed to take marijuana dispensary website design to the next level.
Marijuana Dispensary Website Design Insight #2 – Live Menu
Doctor's Orders – Portland, Oregon
Labeling themselves the neighborhood "Farmacy" it is clear that the Doctor's Orders Medical and Recreational cannabis dispensary embraces all that consumers want in terms of cannabis website design and dispensary marketing.  Featuring a live product menu with updated choices and options on flowers, concentrates, edibles, pre-rolls and more there is no denying that Doctor's Orders is providing that personal touch that can take your website design and marketing to the top.  With a well laid out website that offers real-time inventory reporting Doctor's Orders is a great example of all that is possible when one really leverages the latest technologies available to marijuana dispensaries and brands.
Marijuana Dispensary Website Design Insight #3 – Multilingual Support
Kaleafa – Portland, Beaverton, Oregon City, Gresham, Ashland, Bodega, Oregon
In the melting pot that is America, it's not uncommon to hear many languages spoken while out on a shopping trip.  The Kaleafa marijuana dispensary website design really embraces the diverse cultures we are accustomed to in the country by offering multilingual translation support at their various cannabis shops.  From Spanish, to German, to Vietnamese, to Fijan, to Russian, to Korean to Laos, to even sign language the Kaleafa cannabis dispensary covers it all when it comes to supporting local diversity. As an industry that is highly competitive separating yourself through unique dispensary website design features like foreign language support is a must for those that want to stand out at dispensary website design and marijuana dispensary marketing.
If you are planning to work with a dispensary marketing firm or a cannabis website design company be sure they are well informed about what the top businesses are doing in their local communities. Still in its early stages of growth, legalized recreational and medical THC and CBD will soon bloom transition into everyday life while being offered all around the planet from Canada, to the U.S., to Europe and beyond, fast becoming one of the most blossoming economies in the entire globe. Those dispensaries that work with an expert website design company will find themselves in a powerful position to dominate their respective marijuana market sectors and niches. When it comes to offering your marijuana products and services online you will want your marijuana website design and dispensary marketing to be at peak performance and staying connected to what the very best are doing is an ideal way to do exactly that.