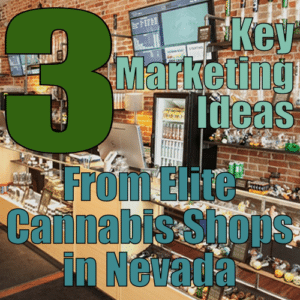 In reference to marijuana dispensary marketing there are a lot of ideas to draw from cannabis stores in Nevada.  By studying the elite Nevada marijuana businesses and dispensaries we can accumulate valuable insights to integrate into our own online dispensary marketing related plans and goals.  Medical marijuana use was officially legalized in the state of Nevada with the June 2001 approval of Assembly Bill 453, which took effect on October 1st, 2001.  After a successful entry into the medical cannabis landscape, Nevada soon join many other states in the quest to fully legalize recreational weed with the passage of the Initiative to Regulate and Tax Marijuana in 2016, leading to the first legal recreational sales of cannabis in dispensaries on July 1st, 2017.  Even though citizens of Nevada are banned from growing their own cannabis unless they live more than 25 miles from a licensed dispensary the state is really progressing on the whole when it comes to the cannabis industry as a viable economic participant.
With so much focus on the subject matter of THC and CBD happening in a single state we are constantly being introduced to new and innovative ideas when it comes to key dispensary marketing methods and strategies.  While we can point to many great marijuana shops in Nevada leading the future of cannabis commerce there are an elite set of stores that really excel in the online advertising of their dispensary.  As a burgeoning sector of the economy, the premiere approaches to dispensary marketing are continually unfolding and expanding making it critical to stay informed on how the top performers are growing and advancing on the internet.  
By analysing the top three Nevada cannabis dispensary marketing ideas and concepts we can learn the most productive and practical ways to enhance our own world wide web presence from the premiere THC and CBD stores in the state.
Marketing Idea #1 – Social Media
Essence Cannabis Dispensary – Las Vegas and Henderson Nevada
One look at the Essence Cannabis Dispensary website design and you see that social media links are prominently featured.  With around 5,000 fans and followers on Facebook, 4,000 on Twitter, 6,000 on Instagram and a growing Youtube Channel that focuses on community and outreach it is clear that social media plays a vital role in the dispensaries' marketing success.  Showcasing active and engaged accounts that are sensitive to the subject matter by including post disclaimers like "*This is a marijuana product. Keep out of reach of children. For use only by adults 21 years of age or older.*" its obvious the company takes social media seriously and so should other dedicated dispensaries that are dedicated to the craft of selling THC and CBD products and services.
Marketing Idea #2 – Blogging
Nevada Made Marijuana – Laughlin and Henderson Nevada
One of the oldest marketing tools on the internet, blogging, is still relevant today and Nevada Made Marijuana's blog is evidence of that.  A perfect way to discuss topics of importance with fans and share stories with followers blogs are an ideal way to get messages out all while promoting your business or brand.  Also a way to share knowledge and to distinguish yourself as an industry expert, there are plenty of benefits that come with cultivating a well thought out and up to date blog. Even used for such strategies as search engine optimization (SEO) and search engine marketing (SEM) there is little downside to keeping an updated blog for marketing  your dispensary.  
Marketing Idea #3 – Merchandise
A hybrid dispensary marketing concept of sorts, selling merchandise on the internet gives you a chance to advertise and interact with clients both online and off.  A chance to promote your company and branding, merchandise not only gives you the opportunity to connect with customers but also paves the way for those very same customers to spread the word about your business.  Merchandise also allows you to try new ideas out and really test the limits of your creativity. Merchandise is a great way to link the real world with the virtual world and by doing so you put yourself in a position to have a leg up on the competition.
If you are contemplating hiring a company to market your dispensary, be sure they are well educated in what the highest rated businesses are doing in maturing THC and CBD markets like Nevada.  Still early in its recognition, legalized recreational cannabis will eventually translate into everyday life, creating one of the most intriguing economies on the entire planet.
Those websites that make an effort to employ the services of high level marketing companies will find themselves in an envious position to their competitors.  When it comes to promoting your cannabis products and services on the world wide web you will want your marijuana website design and marketing to stand out. By merging with the successful ideas that have proven to produce results and piggybacking off of established and prominent dispensaries you can in turn elevate to heights in the industry you once never imagined.