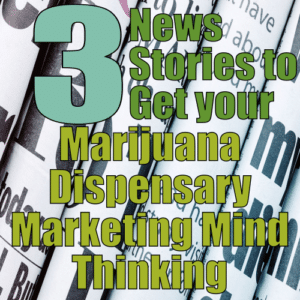 One of the best aspects of the cannabis industry is the constant influx of new innovations, products and services coupled with a wide array of intriguing and enriching news stories.  With valuable information being disseminated daily, the marijuana market is an extremely useful source for dispensary marketing and website design inspiration. Staying well connected to the trends and reports on THC and CBD projects and developments is a sure way to stay ahead of the competitive curve when it comes to marketing your cannabis dispensary.  When marketing creativity and craftiness comes to halt one of the best outlets to turn to for revitalization and rejuvenation is in the announcements and broadcasts that frequent the media airwaves.
An exciting time to be a cannabis brand or company on the rise, it is key to remember that there is a plethora of knowledge and information out there that can help improve your marketing mindset.  Bt staying updated on the latest happenings one can start to expand their own dispensary marketing outlook and really begin to apply some of the lessons and insights to future advertising campaigns and techniques. A key element to dispensary company growth and success is paying close attention to what competitors and potential partners are doing right and then using that to create advertising strategy advantages.  With so much going on in the world of THC and CBD there is every reason to keep tabs on current influences and influencers. Let's take a moment to review some of the recent top news stories to get a better idea of what types marketing ideas and methods to learn from and look out for.
News Story #1: The Power of Retro
Example: Sublime Cannabis "Freaze" Ice Pops (a first in California's legal market)
A throwback to those memorable 1980's and 1990's summers the Sublime Cannabis "Freaze" Ice Pops are the perfect reminder that people love connecting with their childhood and favorite life moments.  When you can tailor your cannabis dispensary marketing efforts to tap into this type of nostalgia and sensory relationship you can really begin to form a deep rooted interests with your fans, followers and customers.  Humans love to long for colors and tastes of their pasts and when your marijuana dispensary marketing matches this sentiment the positive feedback should be endless.
News Story #2: The Power of Partners
Example: Pennsylvania Proposes Bill To Allow Cannabis In State-Run Liquor Stores
In a previous dispensary marketing blog post we discussed how closely related alcohol and weed were in terms of there rise to prominence and similarity in features and characteristics.  Pennsylvania proposing a new bill to permit cannabis sales in state-run liquor stores is another great example of how forming new and unique partnerships can propel your cannabis dispensary marketing options and reach to the next level.  Finding a unique link or outlet for your THC and CBD products and services is a great way to expand marijuana dispensary marketing depth in all types of new directions. 
News Story #3: The Power of Samples
Example: The NuWu Cannabis Marketplace (Nevada's first cannabis lounge)
The NuWu Cannabis Marketplace will be one of the first places in the United States where you can actually sample and taste THC and CBD products before you buy them showing there is a lot to be gained by advertising through sampling and giveaways. This also shows that being first to market is also an important factor when it comes to leveraging marijuana dispensary marketing tactics.  People really enjoy freebies, giveaways and experiencing products before they buy them and what better way to get out in front of potential buyers then offering them a chance to "try it before they buy it". This is a long time advertising ploy that is still finding significance within the marijuana dispensary marketing landscape.
When it comes to dispensary marketing and website design there are few better places to get your mind thinking in the right direction then the news.  Always fascinating, monumental CBD and THC events are truly an ideal source to gleam crucial dispensary marketing revelations and visions. If you do plan to work with a dispensary marketing company it's always best to be sure there are properly tapped in to what is going on in the industry.