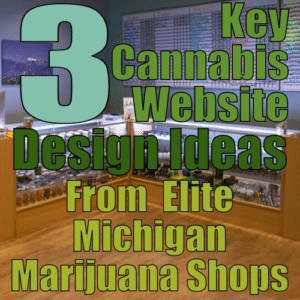 In regards to website design inspiration for marijuana companies, there is plenty to extract from dispensaries in the state of Michigan.  By dissecting Michigan stores cannabis website design, marketing and search engine optimization  we can learn vital lessons on what it takes to create a high level online presence.  In 2008 medical marijuana consumption was legalized through the "Michigan Compassionate Care Initiative" which was approved through a 63% majority vote. After years of requests and interest Michigan finally passed the "Michigan Regulation and Taxation of Marihuana Act" in 2018 which legalized recreational weed by way of a 56% vote in favor of approval.  The full legalization of THC and CBD sales went into effect on December 6, 2018 with the first Michigan dispensaries expected to open in the first quarter of 2020.
With so much support and focus on marijuana happening in a given geographic region we are starting to witness new innovations and ideas in terms of key business characteristics like dispensary marketing, website design, SEO and SEM.  While we can point to a wide variety of fantastic dispensaries in Michigan driving the future of THC and CBD commerce, there are a select few really paving the way when it comes to tapping into the industry's full potential. Still a comparatively new commercial enterprise, the winning methods in dispensary marketing and dispensary website design must stay elastic in nature which is why it is so essential to stay informed and aware of what the trade leaders are accomplishing.
By reviewing the key medical and recreational dispensary website design implementations and ideas from the highest rated and leading marijuana outlets in Michigan we can gain new insight and inspiration on how to elevate our own online THC and CBD projects and profiles.
Design Inspiration #1 – 360 Virtual Reality Gallery
Taste Buds – Detroit, Michigan
There is no denying media technology just keeps getting better and more accessible and the Taste Buds 360 virtual reality dispensary gallery is a great example of just how far website innovation has come.  With the ability to fully immerse yourself in the dispensary shopping experience you are able to get a comprehensive understanding of exactly what to expect when visiting the business. While written content, photos and videos are great when you add the functionalities of 360 degree virtual reality you are able to provide a unique dispensary website design visual interactivity that creates a deeper connection between customer and company.
Design Inspiration #2 – Frequently Asked Questions Page (FAQ)
Bloom City Club – Ann Arbor, Michigan
A long used website design tactic frequently asked question sections seem to have lost its luster over time but here we see the Bloom City Club use it masterfully within its web page structuring.  A new and complex subject matter, THC and CBD related topics often need extra explaining and a FAQ page is a great place to answer some of the more common dispensary questions. The Bloom City Club frequently asked question page breaks down everything from the loyalty point system to the weekly specials so there are plenty of educational as well as marketing benefits to having such a resource in your dispensary website design.
Design Inspiration #3 – Mailing List
Pure West Compassion Club – Holland, Michigan
One of the oldest and still most useful forms of online communication is email and marijuana website designs that incorporate mailing list accumulation into there strategy are able to collect valuable client contact information.  Offered as a pop up option to first time Pure West Compassion Club website visitors the mailing list sign up feature is non intrusive and easy to sign up for those that want to stay informed about the latest dispensary news and updates.  By tapping into some of the most common forms of internet conversation within dispensary website design one is able to grow and expand while at the same time offering valuable information quickly and efficiently to those that are interested.
If you are contemplating working with a dispensary marketing agency or a marijuana website design company always do your research to assure they are well versed on what the top businesses are doing in the legal U.S. markets.  Still in its early phases of adoption, legalized medical and recreational THC and CBD will soon integrate into daily life while being accepted all around the world from Canada, to the U.S., to Europe and more, quickly transitioning into one of the most intriguing products ever offered.  Those dispensaries that partner with a highly skilled cannabis website design company will find themselves in an advantageous position to excel in their targeted marijuana marketplaces and consumer bases. In regards to providing your THC and CBD products and services to the community you will want your cannabis website design and marijuana dispensary marketing to be at its very best and keeping up to date with what the most successful dispensaries are doing is a great way to stay ahead of the curve in terms of competition.