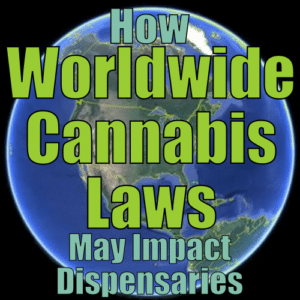 Now that cannabis is becoming more and more accepted globally there are a plethora of new doors opening up for marijuana dispensary marketing. As worldwide governments start to embrace the marijuana movement and laws start to change in favor of legal adult medical and recreational cannabis consumption an increasing number of opportunities are presenting themselves in terms of dispensary marketing and dispensary website design. THC and CBD are slowly shedding there underground and black market nature and public stigmas lending a greater mainstream mentality for there sales and use providing new business arrangements to capitalize on. It's now not just one or two countries embracing the benefits and popularity of the plant but a far stretching phenomenon that reaches borders all across the planet.
Once THC and CBD start integrate and assimilate into a wide variety of cultures there will be a plethora of industry production that will need to rely on cannabis dispensary marketing and marijuana website design. Once a hidden and taboo marketplace the landscape of cannabis sales and use is now opening up to people all over the planet. One of the few products and services that resonate with individuals regardless of location there is no denying the force and impact that THC and CBD is having across all borders. Largely not considered a negative anymore but actually a positive part of communities marijuana is making its way into towns, cities and neighborhoods that once shunned the idea giving it a new platform for all types of innovative and inventive marijuana dispensary marketing plans and strategies. For the purpose of this blog and article let's take a current snapshot of where some of the larger companies stand on the subject matter and how this might affect dispensary marketing moving forward.
CANADA:
Canada became the first major country to legalize marijuana for adults around a year ago making it a premiere example for other countries to follow. With hundreds of new dispensaries now opening up in the country, the need for high level dispensary marketing is growing at a rapid rate. It's a great time to be a weed shop and dispensary marketing company in Canada and this trend is showing no signs of slowing down.
UNITED STATES:
Thirty-three states and Washington, D.C., have now legalized cannabis for medical or recreational use going against federal prohibition, with Michigan and Illinois the most recent of 11 states to approve recreational adult sales of THC and CBD. Even the U.S. House of Representatives recently passed a bill that would allow legal cannabis businesses access to banking while protecting financial institutions from prosecution for managing marijuana related transactions. All of this essentially means that the industry is growing rapidly with little opposition making it a prime space for marijuana dispensary marketing expansion and exploration.
LUXEMBOURG:
This small nation has decriminalized possession of tiny amounts of the drug while also allowing full medical use. Its planning to become the first country in Europe to legalize and oversee recreational cannabis sales to adults, a change that could result in broader cannabis regulation in the European Union. This is an example of Europe transitioning into a new era in marijuana business which only bodes well for the future of dispensary marketing.
MEXICO:
Mexico's Supreme Court decided about a year ago that the government's ban on the personal use of cannabis was unconstitutional leading to a path towards full legalization in the near future. The President Andrés Manuel López Obrador is also in talks with the emissaries in Canada to discuss marijuana production and distribution highlighting the promising future THC and CBD has in the country.
NEW ZEALAND:
New Zealand will hold a meeting and vote next year on whether to legalize and manage the adult use of marijuana making it the first country to put cannabis legalization to a nationwide consensus. The three parties that make up New Zealand's governing body has vowed to honor the poll, but further legislation would be needed to implement legalization, and the center-right party National is the only entity that is not clear on whether it will support the bill or not. While the state of recreational and medical marijuana is still a bit cloudy in New Zealand the climate seems promising which once approved will pave the way for an even greater demand for dispensary marketing across the globe.
As evidenced by the above favorable mindsets towards the legalization of recreational and medical cannabis in a wide variety of places there seems to be no reason not to believe that the marijuana dispensary marketing and cannabis website design industries should be growing by leaps and bounds. If you are thinking about working with a dispensary marketing company to help promote and advertise your THC or CBD products and services you will want to be sure they are well aware of all the market happenings around the world. One thing is for certain if the people's sentiment about cannabis continues in the direction it is going globally there is a bright future for all things marijuana related. THC and CBD are starting to finally be recognized for all the positives they bring to the table and high quality dispensary marketing efforts only stand to benefit from this new found fame and fortune.