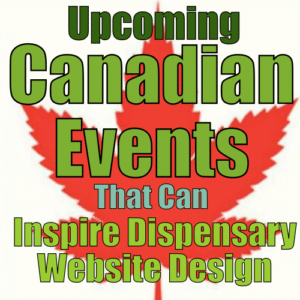 Many of life's sweetest moments come from experiences and some upcoming Canadian cannabis events give us the opportunity to find new inspiration in dispensary website design. Learning about and attending marijuana industry functions is a great way to expand our own thinking on how to approach such key business topics like dispensary marketing and cannabis website design. When visiting THC and CBD gatherings and get-togethers you never who you will meet, what you will see or when you will learn something new which is exactly why they can be so vital in taking your marijuana website design. By understanding the latest trends and interacting with others in the cannabis space through event participation the possibilities become endless when it comes to future design ideas and online growth. With Canada being one of the most forward thinking countries when it comes to Cannabis there are many amazing affairs and celebrations that offer innovative insights into how to present THC and CBD brands, products and services online.
As one of the forerunners in the race to completely legalize cannabis Canada is now producing meetings of the minds year around that provide an abundance of value to the various marijuana communities throughout the world. From entertainment, to learning, to government sponsored and everything in between, there is a wide variety of marijuana events in Canada that are leading the way for change and improvement. If you are ever stuck on a dispensary website design roadblock or a cannabis dispensary marketing obstacle one of the best ways to get over the issues is to get out of your comfort zones and visiting a Canadian marijuana function is one way to do exactly that. Let's take a moment to look over a few of the upcoming marijuana related adventures in Canada that might be great sources of encouragement, enthusiasm, genius, incentive, influence and motivation for our next dispensary website design endeavours.
Canadian Marijuana Website Design Inspiration Event #1: CHIC Cannabis & Hemp Demo Day
Time: November 23rd, 10 a.m. – 6 p.m.
Location: Cannabis & Hemp Innovation Centre, 6212 55 Ave., Vegreville, Alberta Canada
Tickets:  https://www.eventbrite.ca/e/chic-cannabis-hemp-pitching-event-2019-tickets-77966761683
As a full day of listening to people present their cannabis ideas after 7 weeks of training and mentoring this event is the perfect opportunity to watch great marijuana business pitches, meet industry advocates, and network with the amazing THC and CBD Canadian community.  There will also be appetizers, drinks and surprises as well so there is a lot to enjoy about this entrepreneurial event. With so much like minded people joining together to develop and improve cannabis related subject matters one will have no choice but to find nuggets of knowledge when it comes to dispensary website design.
Canadian Marijuana Website Design Inspiration Event #2: Cannabis Investing with Bruce Campbell
Time: November 27th, 2 p.m.- 4 p.m.
Location: The Vancouver Club, 915 W Hastings Street, Vancouver Canada
Tickets: https://www.eventbrite.com/e/cannabis-investing-with-bruce-campbell-tickets-76377626537
This event allows participants to join Bruce Campbell, portfolio manager and leader in cannabis investing at StoneCastle, for an educational state-of-the-market discussion and StoneCastle Cannabis Portfolio presentation. With attendees being accredited investors, cannabis companies, family offices, dispensaries, institutional investors, industry advisors, and marijuana media there is a plethora of information and inspiration that will be disbursed.  Once again here is an example of a Canadian cannabis event that is sure to get the cannabis marketing and marijuana website design juices flowing.
Canadian Marijuana Website Design Inspiration Event #3: Ottawa Cannabis & Hemp Expo
Time: November 23,10 a.m.-6 p.m.; November 24, 11 a.m.-5 p.m.
Location: Shaw Center, 55 Colonel By Drive, Ottawa Canada
Tickets:  https://cannabishempexpo.com/ottawa
A chance to join THC and CBD leaders like Rahim Dhalla (Hybrid Pharm), and Adam Miron (HEXO) in an educational and interactive forum on the latest technology, research, and benefits of cannabis there is no denying that this is one industry conference and expo that you will want to be a part of if you need assistance in thinking of new cannabis website design angles.  By participating in the events that are driving the future of marijuana exploration and commerce you are giving yourself an advantage over others who are not as tapped into the current trends as those that are getting out and interacting with the movers and shakers.
Bonus Event: Health and Wellness Through Cannabis Retreat
Time: November 15th to 17th
Location: Sir Sam's Inn & Spa, 1491 Sir Sam's Road, Eagle Lake Canada
This unique weekend of yoga, meditation, wellness, health, and cannabis is led by Jessica del Rosso, registered yoga instructor and the owner of Enhanced Yoga. Arriving Friday and departing Sunday this all inclusive package features a lakeview room, fresh country breakfast, and three-course dinner each day as well as three one hour sessions hosted by Enhanced Yoga on Saturday November 16.
If you are looking for new ways to discover cannabis website design inspirations you may want to look no further than the popular THC and CBD events in your local community. Even traveling to new places and locations can be a great way to broaden your horizons and expand your mental stimulations in order to find fresh creativity and perspectives on how your online brand, products and services is presented to the world.  Life on the internet can benefit a lot from real world exercises and events and the current state of cannabis worldwide is no different. As individuals not a lot can be accomplished when compared to the power of teamwork, group thinking and sheer numbers all of which make for events to be great places to bring forth effective and successful dispensary website design integrations and implementations. The next time you are feeling stuck in a rut about a THC or CBD concept make sure to go out to an upcoming industry event and see if that does not provide you with a rejuvenation to go after your goals and missions.