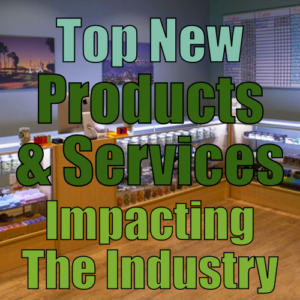 While the Coronavirus (COVID-19) is putting a lot of projects in the cannabis industry on hold there are still plenty of brands, products and services pushing through the pandemic with their business plans. As marijuana laws continue to change constantly around the world there are a plethora of innovative opportunities arising over a wide variety of niches that companies are taking advantage of now. From Canada recently approving edibles and other cannabis infused consumer goods, to the Kentucky House of Representatives approving a bill to legalize medical marijuana in the state, to Colorado marijuana sales hitting a record $1.75 billion dollars in 2019, to California crossing the 1 billion dollar yearly weed taxes mark there is a lot going on to get excited about in terms of THC and CBD markets. Despite the worrying times and global panicking there is still plenty of growth and progress happening in the cannabis space.
Despite many towns, cities, provinces and countries calling for various shutdowns and quarantines due to the Coronavirus (COVID-19), there is no stopping some of the amazing cannabis topics and trends finding there way to the mainstream media. With no signs of related points of interest slowing down like dispensary marketing and cannabis website design there is still a wide variety of upcoming marijuana news to talk about. With the recent release of the CBC news analysis revealing the price of cannabis extracts vary widely across Canada, to the National Football League (NFL) announcing it would end marijuana suspensions in deal circulated by Players Union, to cannabis brands paying high prices for dispensary retail shelf space (slotting fees) we still have a lot to discuss in terms of where the future of marijuana will be taking us. So what are some of the more interesting products, brands and services we should be paying attention to as we move into this time of uncertainty? Here are a few we are keeping on our radar.
New Cannabis Product, Brand or Service News Story To Watch #1:
Tweed Houndstooth & Soda's First THC and CBD Infused Ready To Drink Cannabis Beverage Releases In Quebec, Canada.
Each 355 mL can of Tweed Houndstooth & Soda contains 2mg of THC and less than 1mg of CBD, combining Tweed Houndstooth Distilled Cannabis™ with soda water and other flavours for a refreshing and delicious cannabis experience. Companies and dispensaries are really starting to take advantage of the recently passed Canadian marijuana laws and this is a captivating time to keep our eyes on what popular products will hit the market next.
New Cannabis Product, Brand or Service News Story To Watch #2:
The Cannabis Inspired Limited Edition "Strange Traveler Art Boxes"
Washington D.C. music artist Ben Garlock, whose performer name is Kid Cannibal, has released 100 limited edition Strange Traveler Art Boxes to coincide with the debut of his new album. Each rare collectors edition 8×8 storage box is filled with curated art, music and cannabis. They include: a voucher worth $120 in cannabis purchases from Voyager Club, stash jars, Voyager Club rolling papers, a Strange Traveler cassette tape and a certificate of authenticity. This is a very unique product idea and hopefully we see more of these limited quantity type releases in the future.
New Cannabis Product, Brand or Service News Story To Watch #3:
The Mint Dispensary in Tempe, Arizona has the first full-service cannabis kitchen in the United States.
The Mint Dispensary boasts a state-of-the-art kitchen that features cannabis-infused breakfast, lunch, and dinner. The restaurant also offers a full menu of pizza, pasta, artisan burgers, street tacos, fries, and other cannabis-infused meals for patients to pick up and eat on the go. The location even showcases a juice bar, baristas, gelato, desserts and a full service pastry counter. It will be interesting to keep track on how marijuana based food offerings develop over time as laws and governments become more cannabis business friendly.
As Coronavirus (COVID-19) keeps many of us stuck inside now is a great time to work on business related tasks such as cannabis dispensary marketing and marijuana website design. There is a lot going on with the planet today but given the popularity of THC and CBD products, brands and services nothing should be able to slow down the next wave of interesting and intriguing cannabis ideas and concepts. People will continue to push the envelope when it comes to innovations in weed and it certainly is an exciting time to be a cannabis consumer or connoisseur. What are some of the cannabis trends and new stories you will be paying attention to over the next coming months?