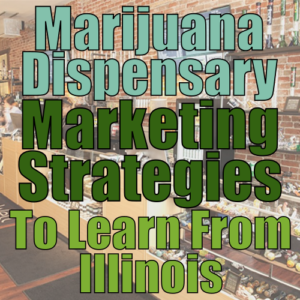 In terms of successful dispensary marketing methods there is a vast pool of knowledge to utilize from dispensaries in the state of Illinois. By studying Illinois based website design, dispensary marketing and THC and CBD search SEO we can learn about new advertising strategies to apply to our own weed selling efforts. With the approval of the Illinois Cannabis Regulation and Tax Act in 2019, Illinois emerged as the first state in the U.S. to legalize recreational marijuana sales by an act of the state legislature rather than legalization through voter ballots. Since 2014, the Illinois Medical Cannabis Program has signed up over 100,000 qualifying patients in the state's medical marijuana and opioid alternative programs giving us access to a long history of dispensary operations. A first in the United States, Illinois leads the charge to expunge an estimated 700,000 cannabis-connected police documents and court convictions in a phased approach ending 2025 really highlighting just how progressive the state is when it comes to understanding the industry and needs of the people as a whole.
With so much focus and dedication to cannabis occuring in a single state we are now seeing what is possible in regards to popular business growth efforts like dispensary marketing, website design, SEO and search engine marketing (SEM). While we can single out a wide variety of premiere dispensaries in Illinois testing the limits of legalized THC and CBD consumption, there are a couple notable operations really pushing the future of weed sales in the United States as efforts to support the cannabis industry's legal expansion across the nation continues to increase. With a proven track record in Illinois as a viable trade, with retail sales from the medical community alone topping $510 million to date, there is no denying the importance of such a plant to residents. Illinois is a great example for us to turn to when it comes to understanding the elite dispensary marketing and website design endeavors that will translate well into our own entrepreneurial adventures. With so much happening in one state it is critical to stay connected to places like Illinois who are forging their way to improved cannabis landscapes and environments.
By analysing the accomplishments and achievements of the Illinois medical and recreational cannabis marketing frameworks from the most well versed dispensaries in the state we can cultivate an improved perspective on how to enhance our own cannabis companies and websites.
Illinois Lesson #1 – Frequently Asked Questions
The Green Solution – Sauget and Normal, Illinois
Since cannabis and marijuana represents a grey area for a lot of people having a detailed and well thought out frequently asked questions page for your dispensary website is an ideal way to not only provide valuable information to clients but to also gain favor in the eyes of search engines and websites users.  Having a robust and helpful FAQ section should be a must for all dispensary website design as it provides a platform for customers to learn about the essential details of the business and state of marijuana use in the state.
Illinois Lesson #2 – Real Time Updates
Verilife Marijuana Dispensary – Romeoville and North Aurora, Illinois
Most of us know just how valuable time and having access to pertinent information is which is why Verilife's real time updates on recreational marijuana wait times is such an amazing dispensary website design resource tool. Prominently featured on the dispensaries homepage the live data points are a great way to provide customers insight into exactly how busy the business is at any given time so that they can plan and schedule their cannabis purchases accordingly.
Illinois Lesson #3 – Text and SMS Marketing
Thrive Dispensary – Harrisburg and Anna, Illinois
By offering clients the ability to "Text the word THRIVE to 411669 to join the Thrive VIP text club" the Thrive Dispensary in Illinois is really providing an example of just how beneficial text message marketing and sms marketing services can be. Tapping into one of the most widely used technologies, smartphones and mobile tablets, text marketing and sms marketing is something all dispensaries should be considering. Having a viable sms campaign is a sure way to seperate yourself from those dispensaries that are not leveraging the latest and greatest marketing tactics available.
If you are discussing the idea of linking up with a dispensary marketing company or a THC and CBD website design specialist, always do your research when it comes to checking their background on past projects and client testimonials. Already holding a storied history in Illinois, legalized medical and recreational weed is an integrated staple of daily life for those in need of pain relief, rest and relaxation all around the world from Canada, to the U.S., to Europe and other supportive territories and governments.
As a once suppressed and frowned upon activity, the selling of THC and CBD is now blossoming into one of the most embraced and widely talked about business segments in the entire world. Those retail shops that hire a highly intelligent dispensary marketing firm will give themselves the competitive advantages needed to prosper in their respective geographic areas and targeted cannabis communities. When it comes to promoting your brand or selling your cannabis products and services to prospective buyers you will want your website design and marketing to be at the highest levels of performance and staying in touch with what the elite dispensaries of the world are doing is a great way to stay ahead of the curve in innovation, customer service, sales and so much more.