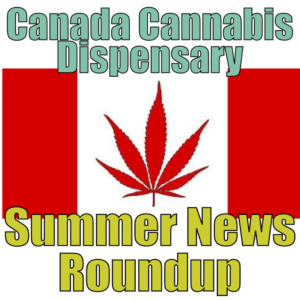 What is turning out to be one of the most unique summers in the history of the world due to the coronavirus crisis, Canadian cannabis dispensary culture is experiencing a wide variety of change. As the country faces many new challenges in the face of the COVID-19 pandemic many marijuana dispensaries in Canada are adjusting their approaches to critical activities such as website design, marketing, product delivery, branding and customer relations.
While the year 2020 has certainly been an interesting and difficult one, there is still plenty to get excited about when it comes to the future of cannabis in Canada. As legalized marijuana in Canada begins to find its voice and place within the community there is plenty of optimism on the horizon in regards to new industry developments and product breakthroughs.
Let's take a moment to look at some of the hottest Canadian cannabis Summer news trends to get a better idea of what to expect for marijuana in Canada as the months of July, August and September sizzle along.
News Story #1: Cannabis 2.0 – Drinks & Edibles
Now that drinks and edibles are legal in Canadian dispensaries there has been a bright wave of new cannabis businesses, brands, products and services available . As an example Edmonton based cannabis confectionary, Dynaleo recently received its production licence from Health Canada. The company has a 26,000-square-foot warehouse in an industrial park just south of the city. This Edmonton area business is setting itself up to be Canada's largest producer of cannabis infused gummies. Through innovative marketing and website design it will be these types of newsworthy events that we will see trending this Summer.
News Story #2: Cannabis 2.0 – Outdoor Cultivation & Green Living
As expenses rise, job openings dwindle, and profit margins shrink during the coronavirus pandemic companies are searching for different approaches to business. One example of this is 48North Cannabis Corp. They have shifted to outdoor crop growing to save money, energy, and the environment. Health Canada recently noted to The Canadian Press that there were 391 cannabis license holders as of May 31st, 2020. About 56 are authorized for outdoor cultivation, up from 28 as of last December, 31st 2019. As of March 2020, licence holders had dedicated more than 2.7 million square metres of land to outdoor growing. New times calls for new measures and a focus on environmentally friendly products and practices will certainly be the wave of the Summer and the future in relation to cannabis.
News Story #3: Cannabis 2.0 – Weed Related Travel
As COVID-19 concerns get less critical and more and more businesses, places and activities start to open up we will start to resurgence in cannabis related travel. Some of the best landmark marijuana destinations in Canada include: 1. Newfoundland's – Tweed 2. New Brunswick's – A&J Unique Boutique 3. Nova Scotia's – Designed smoking area at The Dockyard Clock 4. Quebe's Parc Tiohtià:ke Otsira'kéhne 5. Nova Scotia's – Designed smoking area at The Dockyard Clock 6. Ontario's – M.E.N.D (Mother Earth's Natural Design)  7. British Columbia's – Victoria Cannabis Buyers Club  8. Alberta's – Canada High Tours: Calgary 9. Saskatchewan's – Broadway Bridge 10. Manitoba's – Trout Lake,Flin Flon / As you can see there is plenty to see and do in relationship to travelling in Canada with a marijuana mindset and lifestyle.
There is no question there will be a wide variety of intriguing Canadian cannabis news stories this Summer and it will be fun to see what continues to captivate headlines during the coronavirus pandemic. What do you predict will be some of the Summer marijuana trends this year?